Autoship at Jeffers

Your time is valuable. Save time placing orders by setting-up Autoship orders at Jeffers!
What is Autoship?
Autoship is a type of order subscription that you can set-up, manage, and fully control to get your animal's medication, Rx prescriptions, or treats sent to you automatically each month. You are fully in control of your Autoship orders. Set it up once and let us handle the rest!
How do I set-up Autoship?
Look for "Start Autoship" on any eligible Autoship product product. Click "Start Autoship", select your frequency for how often you want to receive the item, and then add the item to your cart. It's that simple!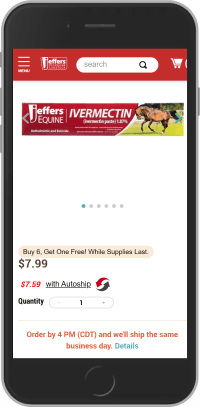 What are the benefits of Autoship?
With Autoship, you'll never forget to order those items you - and your animals - use most frequently. Rest assured that your Autoship order is scheduled and ready for you.
How do I manage my Autoship orders?
We will send you an email when your order is about to be shipped. You may choose to keep, skip, or cancel your Autoship order at that time before it ships to you. You may also manage your Autoship orders at any time in your Online Account on Jeffers. Simply sign-in and click on "Autoship" to manage.
Still have questions?
We'd love to hear from you! If you still have questions about Autoship orders or regarding any other topic at Jeffers please reach out to us at 1-800-JEFFERS or customerservice@jefferspet.com